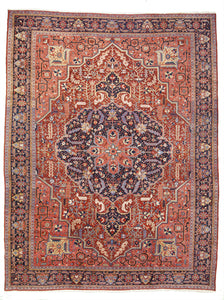 Antique Persian Heriz Carpet 11'6"x 15'4"
$ 19,99500

$ 19,995.00

Save $ 7,505
---
---
Antique Persian Heriz! 
With distinctive large-scale motifs and a wide ranging palette of warm colors, the antique Heriz carpet is probably the most popular of the Persian village carpets. In constant, increasing demand for the past decade, the finer old pieces have become scarce and have risen significantly in value and esteem.
These antique Persian carpets are named after the largest town in a district of over 30 villages, in the mountainous area of Northwest Persia, 50 miles east of Tabriz. The inception of the classic "diamond on a square" medallion Heriz was probably in the third quarter of the nineteenth century. It is believed that enterprising Tabriz merchants, wanting room size Persian carpets for export, showed local weavers the fine city rugs or maybe even scraps of fabric and asked them to weave large carpets. The weavers, skilled in the more spontaneous and angular weaving of tribal origin, adapted these antique carpet designs. The result, the Heriz carpet, is a marvelously effective hybrid, a rustic, charming village carpet with a richness and grandeur equal to the Persian court pieces
11'6"x 15'4"
SKU# ARTR-20746
---
We Also Recommend
---