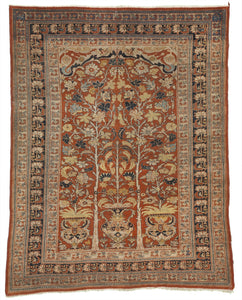 Antique Persian Hadji-Jalili Tabriz Signed And Dated 1883! 4'5"x 5'7"
A signed and dated Tabriz Hadji-jalili.  1301 Iranian calendar translates to 1883.  
The major city of Tabriz, located near the Turkish border, is the center of classically designed antique carpets in Northwest Persia. At the foot of the beautiful Alborz Mountains, Tabriz has a noteworthy history, both as the Persian market center most linked geographically to European and Western commerce, and as the source of the most venerated weavings: the inspired carpets of the Shah Abbas period during the 15th and 16th centuries.
With such auspicious beginnings, during the second half of the 19th century, the city boasted some of the most famous masters such as Kurban Dai, Sheik Safi, Faradji. and most notably, the luminary Hadji Jallil, all of whom were responsible for the reclamation of this celebrated past by reinventing a truly memorable Tabriz carpet production.
4'5"x 5'7"
SKU# ARTR-41656
---
We Also Recommend
---