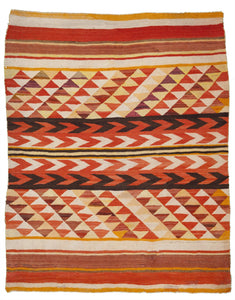 Antique Transitional Navajo Rug 4'3"x 5'5"
Nice colors! 
The period around 1880-1900 marks a transition in all aspects of Navajo life—social and material, political and personal. The railroad reached the southern border of the reservation in 1881, bringing jobs and more manufactured goods, as well as expanding access to markets. A growing number of trading posts stocked groceries and dry goods, exchanging them for Navajo sheep's wool and pelts, pinon nuts, other produce, and craftwork including handwoven rugs. Mill-woven blankets and cotton cloth began replacing handwoven blankets and garments. An economy based upon local barter slowly began to sift toward cash exchange and wage labor.
In some cases Navajo people embraced change and sought to incorporate it into their lives. Store-bought goods, tools, and equipment were quickly integrated for Navajo use. Other changes, like those affecting family structure, sheep ownership, or widespread housing patterns, were met with resistance. Traditional Navajo values for family, livestock, and land persisted while people incorporated many relatively superficial, if highly visible, elements into their lifestyles.
The transitional period signals major changes in Navajo weaving. The very look and feel of textiles changed as blanket-weaving gave way to rug-making. Earlier garments and blankets, once created for domestic use and tribal trade, were replaced by handwoven floor rugs sold to an outside market. The use of commercial yarns, especially cotton string and other mill-spun yarns for warp and brilliantly colored mill-spun wool yarns for weft, increased dramatically. Some weavers also used thick handspun yarn for "pound blankets," for which traders paid by the pound. Bordered rug patterns and pictorial imagery grew in popularity.
4'3"x 5'5"
SKU# ARTR-34382
---
We Also Recommend
---